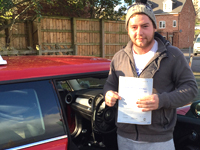 Glen Summers
First time pass
Passed my test first time with mark absolutely smashing bloke really easy going and polite made my journey to my licence very enjoyable would recommend ro everyone much appreciated mark thankyou very much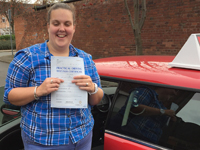 Laura Sheldrake
First time pass.
I wouldn't think twice about recommending Mark to anyone who is wanting to learn to drive. I have really enjoyed learning to drive under his instruction. He's a great teacher who's really easy to get along with and puts you at ease which is great if you're low on confidence.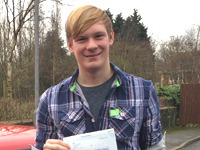 Rob Hewitt
First time pass with ONE fault.
Rob almost managed a clean sheet and had some good comments from the examiner. Rob: Mark is an excellent guy who centres the lesson around you. Would recommend to anyone nearby.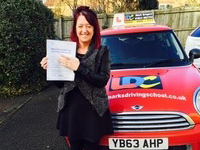 Juliet Hough
A great drive today even with a lorry who decided to just stop with no warning!
Mark is a brill instructor and very patient he believed in me and never put me down I would highly recommend - Juliet Hough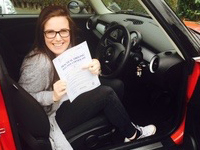 Anna Smith
First time pass for Anna Smith - a great drive, well done.
Thank you very much Mark for everything you have taught me, and also for putting up with my constant chatting haha. I would recommend Mark to anybody who is learning to drive! So easy to get a long with and just an all-round brilliant driving instructor!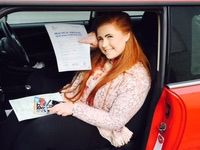 Maisie Bedford
Maise Bedford - 1st time pass in Wakefield with ONE driving fault!
I passed my driving test today 1st time with only 1 fault. Such a brilliant driving instructor and such a lovely person! Really easy to get along with and makes you really at ease! He is extremely patient and great at gaining confidence! He is really positive in everything you do, even when you make a mistake. He really gets to know you as a person and makes you feel right at home. It's like driving with a friend. Would definitely recommended mark to everybody and especially all my friends! Thank you so much Mark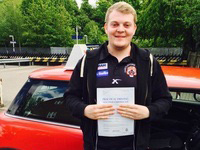 Jacob Maw
1st pass at Pontefract
Mark is a brilliant instructor. My first and only driving instructor and i passed first time with only 2 faults. He tells you little driving riddles that stick in your head so you never forget (only a fool breaks the 2 second rule) He is calm and so patient. Made me feel confident about driving on any sort of road and in any sort of situation. I would HIGHLY recommend Mark as your driving instructor.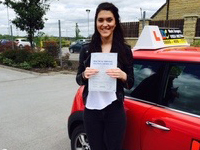 Lucy Dykes
1st time pass in Wakefield
Started driving in November and to say the least I was nervous but very excited about learning to drive! Right from the word go Mark was very supportive and made me feel very at ease. He is extremely patient and really helps you to gain confidence as a new driver! None of my friends thought I would be a good driver or that I would pass first time, but with Mark's help I did! I would definitely recommend him to anyone, and thank you again.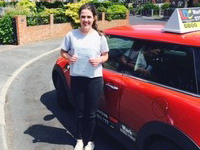 Alex Smith
1st time pass
I would recommend Mark as a driving instructor to anyone! It's been a very pleasurable and enjoyable experience having lessons. Mark's patience with pupils and teaching style can't be faulted! Thanks again, it's been great!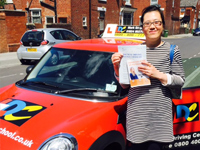 Lin Zhang
Passed first time at Wakefield
My husband thinks my driving is really good and I keep telling everybody you are a really good instructor which I truly think you are from the bottom of my heart. I just feel thankful every time when I am driving. Thanks again! Lin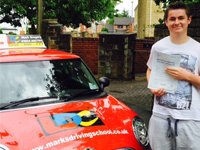 Michael Hill
1st time pass
Thanks so much for all of the lessons and helping me pass. From the start you made the lessons not only useful but also fun and you improved my driving stage by stage until I was ready for my test. I enjoyed learning to drive from you and am very grateful for all the help you gave me.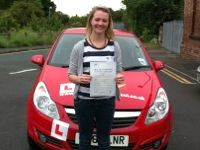 Katie Dalby
I really enjoyed learning to drive with Mark, he was professional, had a good sense of humour and always helped me if I needed it. (However the more lessons I had, I started to hear the words 'you do what you think is best!', something that would always make me laugh but also encourage me to think on my feet!) For anybody who wants driving lessons, I would definitely recommend Mark.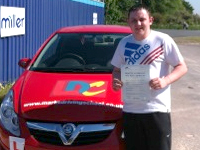 Josh Poyner
1st time pass with zero faults! Well done Josh.
I would highly recommend Mark. He explains everything to you in a away that you can under stand and is incredibly patient. I found him to be reliable, friendly and approachable, he was very helpful with my theory training. I passed my test first time with a clean sheet thanks to his concise method of training. Thank you Mark.
Jordan Crouch
After stopping and starting driving for 3 years, due to the lack of confidence in myself I never thought I was going to come close to passing my test, but when I started learning with Mark no matter how much I put myself down Mark was always there to counter act my thinking with positive feedback which began to make me believe I could do it. Mark was always in jolly mood, immediately putting me in a positive frame of mind, it was a long road pun intended, but I got there all thanks to Mark, I highly recommend him to anyone, thanks again Mark :)
Beau Atherton
Mark always created a sense of calm and relaxation for a nerve-wrecked first time driver like myself. He created a sense of ease, and didn't 'throw me in the deep end' until I was absolutely ready.
Kirsty Cutler
Mark is a fantastic driving instructor. I am not a confident person, but every lesson he always put me at ease and helped me to believe that I could drive. He was so patient and explained things how I would understand them. Lessons were always really fun, as Mark is such a down to earth guy so whilst learning how to drive we had a good laugh aswell - I even learnt how to look after chickens! And I do actually miss the lessons sometimes! Since passing my test my confidence has grown and that is down to Mark, I would recommend everyone to learn to drive with him.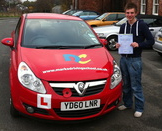 Matt Hall
Learning to drive with Mark has been a fun and enjoyable experience. He is a very good driving instructor as he is very patient and encouraging. He has a good sense of humour and is easy to get along with, which helped me feel more relaxed about learning to drive. I'm pleased to say that thanks to Mark I passed my driving test first time and I would recommend him to any one who is wanting to drive... Cheers Mark!!
Zoe Liddle
I started driving lessons with Mark having taken 2 tests many years ago. I asked him to start me at the basics again as plenty of time had passed!
I found Mark's tuition style to not only be thorough but amazingly well considered. He broke each aspect down into small achievable steps allowing me to quickly build an excellent skills base.
Most of all he was very (very) patient and immediately put me at ease. I would whole heartedly recommend Mark to anybody. He obviously has a passion for producing good drivers rather than ones that are simply able to pass a test.
Nearly 2 years on I consider myself to be a good driver and many of mark's saying stay with me to this day. I still hear him cough if I venture over the speed limit a little.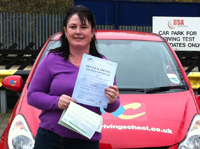 Miriam Henshaw
Hi Mark I just wanted to say many thanks for helping me to pass my driving test yesterday 14/11/11. My journey to achieving this was a long one for me! even longer I am sure for you! without the constant assurance you gave me especially when I honestly felt like I was banging my head against a wall you continued to boost my confidence when I was at my lowest. PATIENCE is something so important for a pupil and you certainly had it in buckets for me!!!!! times. This is no exaggeration I was so nervous I found everything so hard the night before lessons I would wake up thinking how will I get through the lesson tomorrow but when I would get in your car you taught me how to over come my nerves you believed in me. Mark you told me that I could achieve this and I have because of the belief you had in me.
I passed yesterday and an hour later I was at Junction 32 with my daughter this morning I did my first solo trip just to the local shops but what an achievement that was! This will make such a big difference to my family and especially my family when they visit from back home no longer waiting for the bus. I will strive to be the best driver I possibly can remembering all you have thought me. My life has already changed within 24hrs it"s amazing! from the bottom of my heart thank you so much.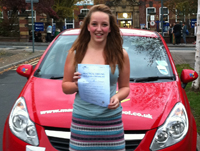 Lizzie Atkinson
I had a semi-intensive driving course with Mark, which I found was a lot better than 1 hour a week. The training I received was of very high quality and I found myself continually improving. The LDC books and DVDs that I used were excellent and aided me in preparing for my lessons. Mark is a very professional, friendly driving instructor and I always felt at ease. I am now a confident and safe driver and look forward to many years of driving!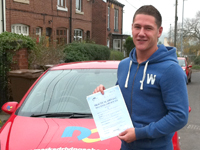 Ash Haynes
My first thoughts on driving was that I was never going to pass because I had no idea; from the first lesson Mark changed my mind - he was relaxed and a laugh to talk to, which seemed to take my mind off all the things I had to do and they just started to come naturally; doing them with out even noticing! I would recommend Mark to any body because he taught me so much in such little time, I had 29 hours spaced out over 9 months and because of Marks effort and ability I passed first time. So I guess it goes without saying cheers Mark!!
Liam Hobbs
After having completed a semi intensive course with Mark and taking my test at the Wakefield test centre, I'm pleased to say I passed first time. Mark is a good instructor, he is patient, helpful and has lots of useful tips to offer. Overall, my driving course was an interesting experience and I would recommend it and Mark to other people wanting to learn to drive.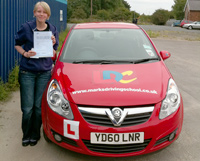 Amy Smith
I had a fun time learning to drive you were patient and really helpful with the tips made driving become a second nature for me seeing how driving didn't come easy to me.